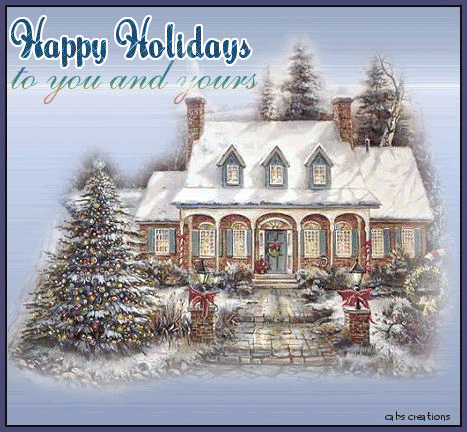 I just love the house in this graphic. If you would like your family's name, your name or some special message, leave me a comment.
It has snowed 3 inches here today and now it's a mix of rain and ice...yuck.
My thermostat went kaput on my furnace. Should have been no big deal because my BF could put a new one on but, of course, it was a big deal. When he took the old one off, there were too many wires and none were the right color. I had to call for a weekend heating repair. The previous owner did all his own work and used whatever he had around the house. The heating guy had to change the wiring clear into the furnace. $174 later; not counting the $30 I had spent on the thermostat earlier, my heat is up and running. Merry Christmas to me...lol. Good news is this young guy is starting his own heating company in March. I need some things done on the furnace that can wait until then and will cost me far less than what the place he works for charges.
I managed to get some cleaning done and some snowmen up in my livingroom. I'm not too hopeful that the outside lights will get up this year.
I'll leave you with a slideshow of my tree that I did in Photobucket. I still would like a fuller, bigger tree but actually it sits near the path to the kitchen, and it's much easier to navigate around it than previous years when our trees were huge. Plus Grizzly isn't knocking everything off of it with his tail when he runs into the kitchen (which is every time the refrigerator opens or a bag of something rustles.)
HUGS N LOVE to all........(Thanks to dear Sugar for my Christmas gift graphic below....muah!!!)