There is another update in the blog plus I got an e-mail from Megan. I wish I could say I am jumping for joy about it but I'm just a bit worried. Her tone was off. She said China is definitely different; dirty, dirty, dirty. She went on to say that she hasn't felt well at all, can't shake it and is feeling worse each day. She thinks her celiac disease is kicking into full gear again because she can't convey to the chefs in the restaurants that she can't eat any grains. She can't see how the food is being cooked and thinks she is getting wheat in her system somehow. It makes her deathly ill. I was worried about that. Celiac is an immune system disorder so, of course, I'm worried that she will pick up some disease with a weakened immune system. I worried about that before she left. She's only been there a week. She is going to try and call. I hope she does so I can guage exactly what is wrong with her. She just didn't seem herself in the e-mail. I know she's not homesick. She did say Shanghai is gorgeous at night. I know she is ill...oh dear. They are in Xian now. I can't tell who is who riding the bikes. The tour guide took this. It was taken May 8th. That was the last update.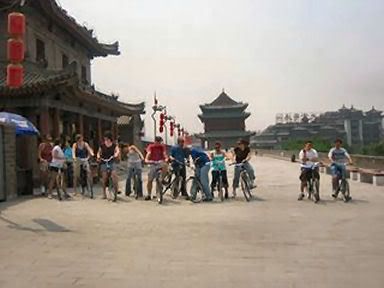 Today we flew to Xi'an, the ancient capital of China. Since we got up so early in the morning, we only visited the city walls once we got to Xi'an. We all rented bicycles and rode the 9 miles on top of the walls. The view is amazing, although I spent most of my ride trying to avoid all of the potholes in the bricks.
In the evening we had a traditional hot pot dinner. It's like a fondue meal where each person is given his or her own pot of broth. Then each person has to cook their own meat, noodles, and vegetables. Amazingly enough, no one had to go to the burn ward after this one.
Today we are spending the whole day visiting the Terra Cotta Warriors in Xi'an. I'm expecting some amazing pictures from this one. Stay tuned!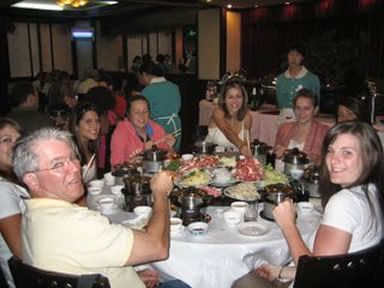 Megan is hiding behind the professor again, on the left in the white shirt. Say a prayer for my baby because this mama is definitely worried.