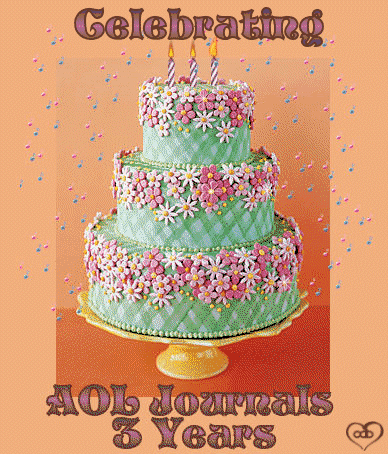 Vivian needed a cake for the celebration. Nwanyioma's Journal
Of course, I am far from the best "baker" in the bunch but the pickins were slim so if you want some cake to go along with the Anniversary/birthday celebration, feel free to snag.
For those on diets, I've resized it a couple of times. You may not realize but only so much resizing can be done before the original is totally distorted and dummy me didn't save the blank.
Enjoy!
(PS: I made a mistake on Sugar's pet memorial. It is a memorial for those who have lost their dear pets during the past 3 years, not the past year, as I had stated)
I also found out that Stevie 'J~Land' 3rd Anniversary tribute video has offered to put together a video of pictures of J-Landers sent to him. Click on the link for more info.
Whoops...one more edit...Shelly, Roxymama, is making another gorgeous quilt...a memorial quilt for those who have lost loved ones....clicky on her link for more info....XX Roxy Mama XX