This poor child has had more face lifts than Joan Rivers...lol. The eyes were/are a nightmare. The shading was awful to do and I couldn't get them outlined properly. My Paint Shop is totally acting up. I'm ready to reinstall it. My clone brush to color in the eyes is out of whack. Whine, whine, whine.....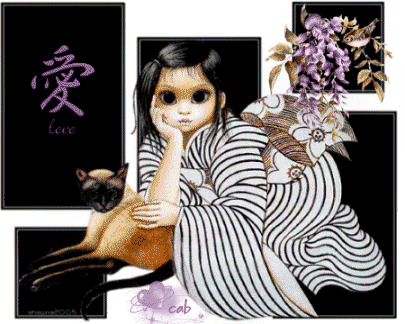 I'm still not thrilled with the eyes on the child; the kitty's were far easier. I still am determined to perfect this one but this is attempt #5, 6???
FYI...I just heard through my PSP group that AOL has perfected the means of savings gifs through e-mail. You simply save it to bmp and the .gif automatically is added. I've tried it, and it actually works....Whoo hoo....