No turning back for me, and, nope, I'm not that happy bee today. This is my first day at home "smober", and, to be blunt, it SUCKS!
Day 2 was almost way too easy, no cravings, no craziness. Yesterday, Day 3, was a mix of slight cravings and some craziness when I got home and found out my BF is working for the next two weekends again. He is also sick. He doesn't need the money but that's why he's working. So, I just stifle what I really want to say.
Day 4, the beginning...I'm craving but I won't give in. It's gonna be a bad day. My pond...ugh. I've poured so many chemicals in it but it's filled with sludge and leaves I decided to drain it. I did that the year before last. Yuck...it smells even with all the chemicals. I got halfway through and my filter and pumped burned out. They are inexpensive. This is the second one I've had in 8 years. So, I need to buy a pump. Oy, my BF did it before but I've been doing all this myself now. I hate dirty jobs but I did drain the pond the summer before last myself. So, a picture of my pond last summer in July. I'm thinking that a lot of the flowers didn't make it through the winter plus my ivy died that covers the jets. Anyway, July 2006 (you can see the rocks on the bottom...lol...yes, you can):
Now, today June 2, 2007 when the pump was still working :( That's my cart with crap I already removed from it. I know it doesn't look that much different but those are leaves and other stuff you see; not the darned rocks. Ewww...if I got closer, there are dead maggot looking thingies in it and it stinks. It should be about the same color but clear. Hope no one is eating. This pond is a full time job itself. I haven't even started the pool yet.
Off I go to the little hardware store. They sell pond stuff far cheaper than the actual pond store. Of course, there is this underlying anger at my BF because he is now sick and had to take off from his new job already. Dang, I hate doing this stuff myself, and I hate that I haven't seen him in 3 weekends.
On a good note, Megan cleaned the familyroom the other day. It's totally immaculate. She also came home at midnight last night. A friend picked her up as soon as she got home. I haven't seen her since. BAH HAH...it's her last weekend of freedom. Monday is court day. Ok, I'm being a total witch. I'll leave you with some tags to snag or I'll tag em. Don't know who the artist is on the first one and right now I don't really give a rat's behind.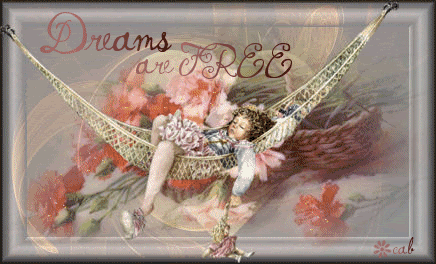 V
V
Warning.....the next tag may be offensive to some. It contains some adult content. You look farther, you've been warned.