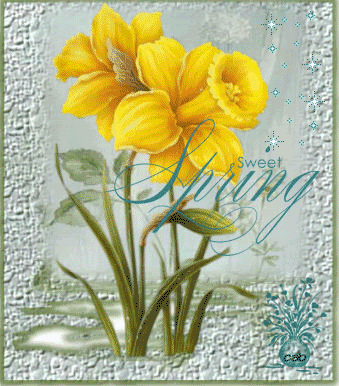 Thinking spring here and waiting impatiently for flowers to sprout. I just started hearing the birds chirping so there's hope.
Joey didn't have to work today because of the monsoon rains...thank the Lord because he was able to go to the vet's with me. Grizzly actually behaved better than usual in the car but probably wouldn't have if I was driving him alone.
He was a total spazzo at the vet's. He howls louder than two dogs put together. He is like a mule....we have to literally drag him in and then the howling starts. As soon as we get there, all the vets and techs come out to greet him because they know he's there from his howl.
He needed a good bit of blood drawn from his neck...oy, he needs to be sedated just to have his claws trimmed. They took him out of the room. All of a sudden there was total silence. Joey and I jokingly said they must have knocked him out. Actually, what they did was muzzle him; not because they were afraid he would bite them but to distract him. It did the trick because he was so busy trying to figure out a way to escape from the muzzle that they drew the blood and trimmed his claws with much less stress on him.
From all the preliminaries, he is tolerating the Rimadyl well. They expect that the liver profile will be pretty much the same. He will start a slightly increased dose tomorrow when the final results come back. His left leg is fine now. That was the worst to begin with. His right one is still sensitive. Mama and Griz will start gentle exercising, i.e. walking each day to keep his joints moving.
Here are a few more flower snags....THINK SPRING and HUGS...CHRIS