Yikes, first of all I'm really embarassed that I've been away from JLand for almost two months. I've been trying to keep up with alerts and reading journals but got totally away from PSP and my own journal. Mother's Day was wet, dreary but a nice day except for an aching on the top of my head. It felt like a good old-fashioned "goose egg." I didn't give it a thought because I'm clumsy. The next day, I developed one of the most severe earaches I've ever had. Even the outside of the ear hurt. I pushed myself through work. I developed a pimple on my eyebrow Wed. Weird but WTH. I took of Thurs and Friday because my ear was killing me. I got an antibiotic which started getting rid of the ear pain. But there was this "ice pick" pain on my head behind my ear which was excrutiating and getting worse. It would come in waves. Long story short...lol...as if....my son insisted I go to the ER Friday night. My uncle died when he was 53 from an aneursym that burst with much the same symptoms. The CT scan showed nothing. As I was getting ready to leave, I started breaking out all over my forehead and eyelid with blisters. I mentioned it to Joey. The doctor overheard and flew over. Shinglesand that was what was causing all the odd symptoms. He was shocked because they weren't there when he had looked in my eyes. I was extremely lucky to have had that headache because they caught my break out within 72 hrs. I took Valtrex. I was miserable for a couple of weeks. Now really there is no pain. Just an odd sensation of my scalp crawling and the same with the eyelids. That's from the nerves but I can live with it.
Megan's internship was retracted late Friday before she was to start the next Monday because of the background check. We all learn our lessons. She is back waittressing and living at home. It's been a struggle as we always seem to be at each other's throat with my son caught in the middle. Luckily for both of us, she is working mostly nights so we don't need to cross pathes much. She still is not sure where to live in the fall for one more semester.
Right after I got my new cell phone, I somehow convinced my BF to get a cell phone on my family plan. Megan couldn't get ahold of him one day when she needed picked up. So, he got one with a camera. ROLF...he is a text message addict. He texts me all the time, texts his son, grandson, daughter, etc. It's unlimited so that's ok. He adds all kinds of graphic and noises plus sends me pictures. He was just being stubborn.
Weather..ugh...it sucks totally here in western Pa. The first week in June was 90 all week. I struggled to get the darned pool clean. I hate that job. It took the whole week of messing with chemicals. As soon as the pool was ready, the weather took a nose dive. 70's, total cloud cover and rain non-stop. Of course, no flooding so I feel bad about complaining. I've been in the pool twice. I took off Wed. and Thurs before the 4th because I knew Wed would be sunny and it was and it was the only sun we've seen. It has rained non-stop since. The sun is out today so I hope I'm not jinxing it. There's some stationary front south of us causing this that won't move. Blah. or as LJ says...lol....I made this just for Lisa Jo.......think I just might make a couple more since I feel so "PHOOEY" right now. Feel free to snag.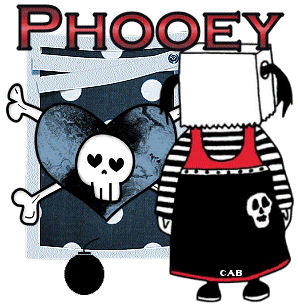 Thanks to all of you who have checked on me, left me messages, etc. You are all the best which is why I felt so bad about not making any entries. Actually, I feel bad about doing entries if I have requests to fill. I know I've missed some e-mails,etc. so please remind me because it's been so long. I have everything on my back up drive. I also feel bad about doing entries if I'm not caught up on alerts. I had a snafu with my security crap again yesterday...no virus protection and McAfee would not download. After two phone calls to half English speaking folks and two live tech support tries, I found a gem. She had me send her my sysinfo in an e-mail. I had remnants of a microsoft virus program left that needed removed. She also had me download through Explorer..voila! I was getting more furious by the minute with all the lame excuses I was getting plus the fact that I had no virus protection, just a "stinger" to run from McAfee. So it was ugly outside, and my journals plans were ruined....a big PHOOEY! Love that word, LJ.
I made a couple of blinkies for my PSP group, which was the first I had dabbled in PSP for ages. I made the top tag in the midst of my pc woes yesterday. I'm not sure who created all the stuff I used but the word art is from Shelly/Roxymama. She rocks! Hopefully, my creative juices are flowing again.
Well, this is long enough. I hope I haven't bored you all to death. Hope you all had a great 4th! Love & Hugs to all!
CHRIS