Funny how one moment in time can become etched in our minds. Funny also how when the fragile tightrope we walk in life dissolves in front of our eyes time moves in slow motion. Daily life continues as it was. People mull around. Traffic continues but we watch from another distorted realm.
Halloween day was gorgeous in Pittsburgh, 70, sunny. Megan was walking down to meet me for lunch after her class was over at noon. I went outside a little after 12 to enjoy the beautiful weather. The cell phone rang, as I expected it to. What I didn't expect was the tightrope to dissolve into pieces and scatter in the wind. My child's voice was almost unrecognizable; hysteria had set in. I asked what was wrong. She said she would tell me when she got to my building. I couldn't let it go. Something was causing her to lose control. I asked about her class and did she get an "f". I asked if someone was mean to her. Lord, what a silly thing but that's all I could think of. She was in the bathroom and didn't want to talk. Her roommate, bless her, just happened to come in and took Megan aside to an empty classroom. The only words I could understand were gyne, pap smear and cervical cancer. That was all I needed to hear to begin the free fall.
Suddenly, life was not the same as it had been a minute or two earlier. I went back in the office to call my BF and lost control. Bless my new coworkers for the prayers and comfort instantly bestowed upon me. The Lord definitely blessed me with this new work environment. I had to regain some control because my child was on her way.
I went back to the lobby and saw her leaning against a trash can with sunglasses on. As soon as she saw me, she dissolved in tears and almost crumbled to the ground. The call from the doctor's had come through when she was in class. She had a message to call back ASAP, and so it all began.
Confusion, tears, comforting, and swaddling her like I did when she was a baby.
When I got home from work, Jackie popped up, as is very typical since the Vivi's were almost ready for the final vote. Jackie so kindly offered to make an entry for me.
I have to say I was totally unprepared for the total outpouring of prayers, love, and support. Each and every comment touched my heart. I've read those comments many, many times over the past few days. I want to give my heartfelt thanks to each and every one of you; the main reason for this entry. J-Land has seemed to be a cesspool lately. But that was only an eensy part of J-Land. J-Land is a community filled with caring, loving people who will jump at the chance to help, lend prayers, offer support.
Really and truly, you have all touched me. I almost felt like I was lurking, though, hiding. I felt the need to express my thanks and to let the many people I know who commented who it was. This entry is in my graphics journal because my kids don't look at this because I never post anything interesting to them in it plus they think my PSP addiction and tags are "dorky."
I was able to get ahold of the RN at the office later in the afternoon, as Megan has missed most of the conversation
Nov. 28th will be the removal of a cone-shaped piece for biopsy to make sure the cancer is only in the epithelial layer which is the outermost layer of skin. Most times that is the case. Then paps will be done every 3 months for a year. If they remain clear; every six months for another year. 98% of the time, this is the case. No discussion was made of the 2% that aren't. It also appears that the abnormal cells have only very recently changed into cancerous cells.
The doctor's are at Mercy Hospital in Pittsburgh which is one of the best and next door to Megan's university. All her doctors are located there.
A couple of days were foggy for me. Megan called Thursday afternoon and was her old chipper self again. The prayers are most definitely working. My daughter is a child of God. She has been placed in His hands. Peace is slowly being restored. I have all of you to thank for that.
God bless each and every one of you!
(Megan in September at her aunt's wedding.)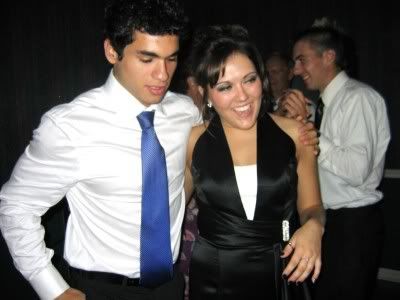 (LOL..ok, I'm goofy but I loved this NA tube and had to throw this in. I must be almost back to normal for the time being.)