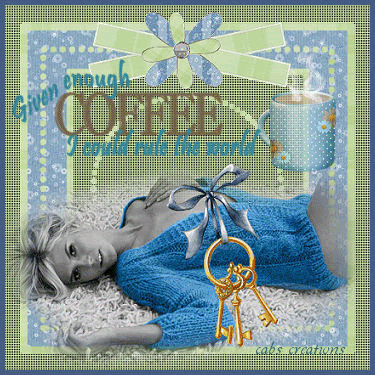 LOL, I've rolled out of my time machine and voila....blonde and beautiful. Actually, my BF has been sick with some kind of crud since last Friday so I spent NY's Eve to my own devices. Of course, this meant, playing in PSP. I haven't done that in a long time. Naturally, I whined and moaned and groaned about being home on New Year's Eve but really that is only minor.
We are all going to my mother's today for sauerkraut and pork. This is the traditional New Year's Day meal for most of Pa. In fact, it is supposed to bring bad luck if you don't have sauerkraut on New Year's Day. And, of course, it is bad luck not to kiss the one you love at midnight...grrrr.
We are back into the snow thing and cold which I hate. Becky's BF, Matt, may show up today or then again may not. Who can tell? Enough rambling.
Oops, before I forget, I found Christmas cards from JLand last night stuck under a pile of junk mail....Thanks Jan, LJ, Jackie and Barb! I think that's it although there could be more stuck in my mess.
My resolution for this year...I don't make em but my goal is to visit all the journals that I'm missing and keep up with my alerts.
Have a great day and welcome 2008! HUGS Chris